Regular price
Autumn Mixed Box
---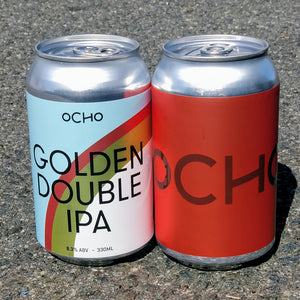 Regular price
Autumn Mixed Box
---
24 x 330mL bottles/cans - gross weight 8.5kg.
Our Autumn Mixed Box contains:
12 cans of RED. (6.5% red IPA)
12 cans of Golden Double IPA (8.3% DIPA)
All cans are 330mL, and were packaged on the 19th March 2019.
Please note:
Freight will be charged separately - expect to pay $10-15 within TAS, $15-20 for Melb (metro), and $25 for most metro areas (see our shipping information page for more).
Regional areas may cost more - please contact us for a freight estimate.
We can only ship to physical addresses - not PO Boxes or Parcel Lockers this time, sorry.
A little more about the beers:
Red Autumn Seasonal IPA (6.5%)
Our Autumn Seasonal IPA is the *perfect* red colour, and has rich, toasty malt character as well as some elegant citrus and stonefruit hops. We used 100% Gladfield Malt from NZ;  because we love their darker, toasted malts like Red Back, Aurora, and Shepherd's Delight. For hops, we used Cascade and Centennial, with a bit of Citra. We were aiming for citrus, of course, but the higher amount of Cascade also gave us some nice herbal, floral elements that in combination remind us of strawberries.
Golden Double IPA (8.3%)
We delayed re-brewing this batch until we could source fresh crop from the US - the hops are Idaho 7 (apricot, pine), Citra (mango, citrus), and Simcoe (pine, resin). We're really thrilled with how this batch came out! It's got 99IBUs, half of which is from the boil, with the other half from the whirlpool. The majority of the hops were added on the cold side, split between two massive dry hops - one towards the end of fermentation, and one immediately prior to chilling. This is our fourth ever batch of our beloved double IPA, but the first time we've used Gladfield malt for it - the recipe remains the same (80% pale malt, 20% wheat malt), but there's a little more malty richness compared to our usual supplier. But never fear: it's as hop-forward and crisp as ever.